Locksmith Seattle
Seattle Automobile Locksmiths
Seattle automobile locksmiths are the most dependable and fastest, automobile locksmith service in Seattle. Our automobile locksmiths are undoubtedly the finest that the industry has to offer. Skilfully trained our locksmiths are able to work on any vehicle, regardless of the year, make or model. They are able to employ the latest techniques and tools that are available to have you on your way. So call the locksmiths that Seattle has trusted for over two decades, with their vehicles, wallets and security.
 Are you in a jam? Have an automobile emergency? Call NOW! There is no need to panic. Seattle automobile locksmiths will be at your location within 15 minutes of your call. Our emergency response units are swiftest in town and they are always well prepared for whatever scenario may arise.
Call Today (206) 238-1230
Locksmiths of Seattle have the most extensive range of products and services for all your automotive security or locksmith needs. Some of our products and services include: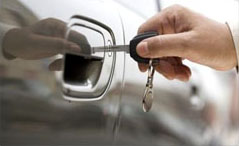 Car Trunk Opening
Ignition Cylinder Replacement
Make Ignition Key
Unlock Car Doors
Transponders Lockout
Car Key Programming
Transponder Keys Made
And Many More
Call Today (206) 238-1230
Seattle Automobile Locksmiths are keen to the fact that an incident with your car can happen anywhere at the most inconvenient time. Don't put yourself at risk by calling a locksmith that may have you waiting and leave you to the mercy of others. Rely on us to be there for you, with fast, dependable and expert locksmiths. We will ensure that you and your car are secure till the job is done and you are on your way to your destination. Your security and safety are our number one concern; it should also be yours when choosing your locksmith provider. That is why most residence of Seattle make us their #1 choice, it would be wise of you to do the same.